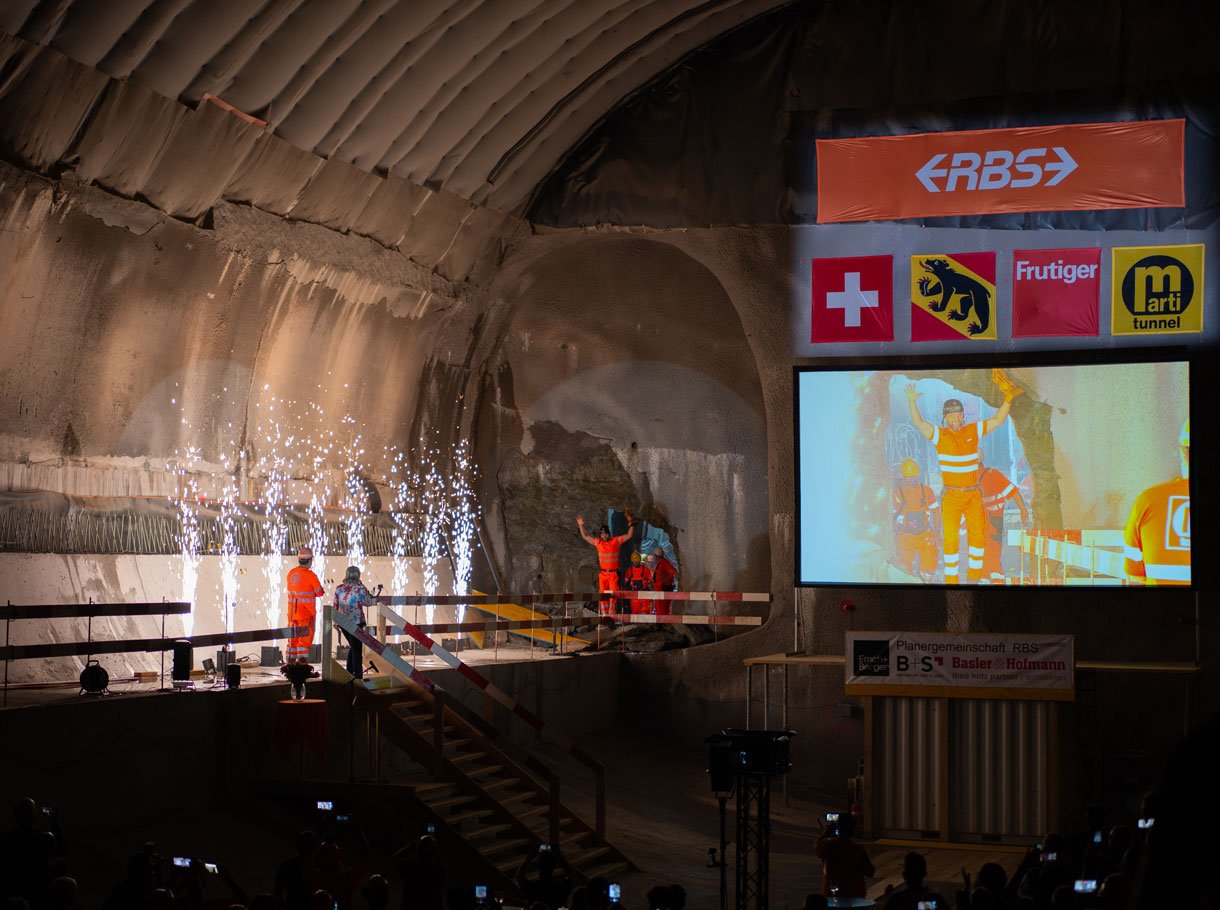 Regionalverkehr Bern-Solothurn RBS is part of the national public transport system and the S-Bahn Bern. It transports 26.2 million passengers a year on four rail lines and 18 bus routes. RBS is one of the busiest private railroads in Switzerland. The large number of passengers and a dense timetable demand a great deal of commitment from all employees.
Baseline/Requirements:
As an existing customer also in the field of fixed installations, RBS asked us for THE milestone in the major project "new RBS station Bern": the breakthrough between the access tunnels and the future platform hall. The celebration took place at the site of the event with the main players of the project, the involved construction workers of the two construction companies Frutiger AG and Marti AG, as well as about 350 invited guests. Federal Councilor Albert Rösti addressed the guests with a word of greeting.

Kilchenmann was responsible for the entire spectrum of technical planning, coordination and implementation for this project.


Technical implementation:
A camera was placed directly at the drill head in the tunnel and the image was transmitted via livestream on the RBS website with the current images. A screen for the audience on site served as a view for everyone of what was happening (live image). To ensure that the image in the tunnel was bright enough, the event crew installed the necessary lighting.

To further enhance the surprise effect, pyrotechnics in the form of Sparkular were ignited. The firework machine with fountain effect is completely safe, practically smoke-free, odorless and thus ideally suited for the tunnel conditions.

Of course, we also provided the perfect ambience on site. Podiums, microphones, sound system and lighting in the adjacent area were provided by our dedicated team.

An incoming train was projected onto the tunnel wall using morphing technology. Morphing is a computer-based special effect in which two images merge into one without a visible step.
A well-rehearsed team of around 25 dedicated professionals was deployed for the set-up, the technical rehearsals, the event itself and the subsequent dismantling.