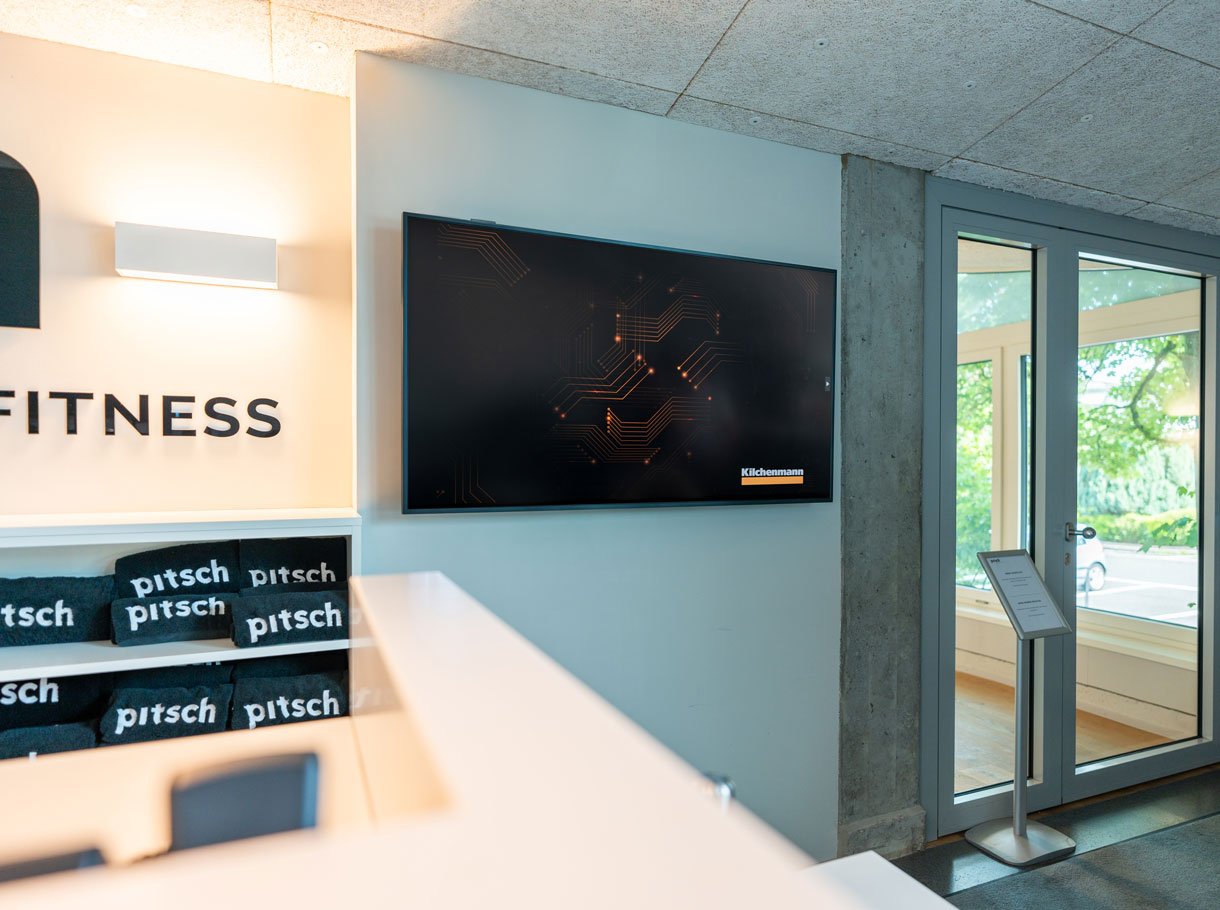 The city of Adliswil is located in the region "Zimmerberg-Sihltal" and borders directly on the city of Zurich in the north. Only a few minutes away from the most important economic center of Switzerland, Adliswil offers peace and recreation as a place to live.
Baseline/Requirements:
Extensive renovation work was carried out at the Tal indoor swimming pool. Not only was all the building services equipment replaced, but all the surfaces were also renewed. The checkrooms and the entrance area were reorganized and the elongated building was converted into a gym. In addition, the building received a new exterior shell. Kilchenmann was commissioned to plan, procure and install info screens and digital signage systems.
Technical implementation:
In the ground floor entrance area of the indoor pool, a 43-inch display with digital signage player and a wall mount was installed. This screen is used to display various content such as the welcome message "Welcome to the indoor and outdoor swimming pool Tal", the opening hours and the timetable of the Swiss Federal Railways (SBB). The reception desk received two 55-inch displays with players that were also mounted on the wall. These screens display information such as admission prices, current information and events at the indoor pool.

A 55-inch display was installed in the newly built fitness center to show visitors the day's classes and other relevant information. The customer has the option of updating and designing the display himself using predefined layouts. For this purpose, Kilchenmann created special templates that serve as the customer's starting point for the content.

In the basement of the indoor pool, Kilchenmann installed two 43-inch displays with a player on the wall. One display shows the occupancy of the checkrooms, while the other shows the occupancy of the swimming lanes. The data required for this is automatically retrieved from the customer's iWeb. Kilchenmann developed this interface to enable automatic data transfer.

The customer is responsible for managing all content independently. For this he uses the layouts created by Kilchenmann as a basis.