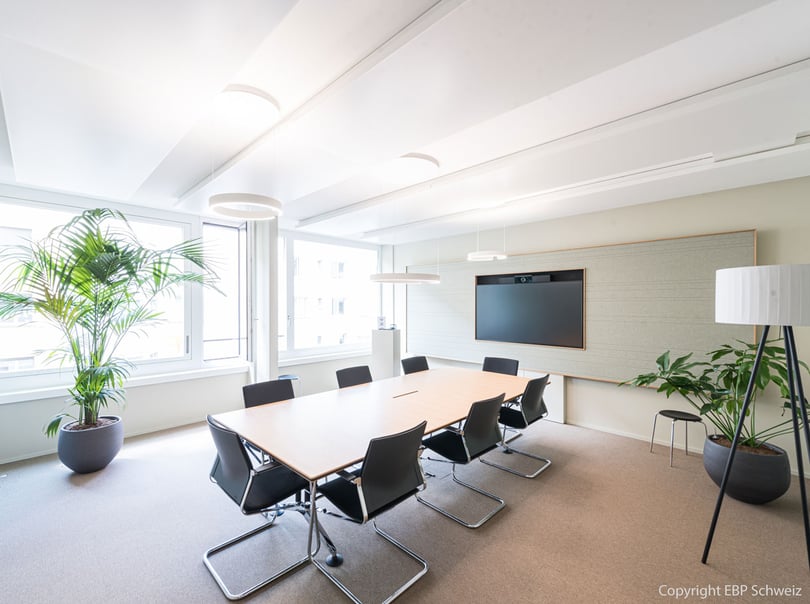 As an international consulting and engineering company, EBP develops sustainable solutions for the key challenges of our time and is committed to preserving the earth's habitat and ensuring the well-being of present and future generations. More than 600 employees worldwide provide services in the fields of consulting, planning, engineering, IT and communications.
Baseline/Requirements:
Kilchenmann was commissioned with the execution and implementation planning of the audiovisual technology concept for various rooms in the venerable building on Mühlebachstrasse in Zurich. The concept envisaged the installation of modern audiovisual technology that would meet various requirements: it had to blend in with the rooms, offer a high standard and be user-friendly.
Technical concept:
Kilchenmann has equipped a total of nine rooms to meet the different requirements and needs.

Three meeting rooms were each equipped with a 55-inch display and a video conferencing system.

The large meeting/multi-purpose room "Attika" on the top floor (including a great view) was equipped with a 65-inch display, an electric screen, a high-quality video conferencing system with audio/video soundbar, a projector and two ceiling loudspeakers.

We installed a new projector in the "Grotto" open meeting room/lounge to improve the presentation options.

We also installed a new projector in the "Sopra" meeting room, which has a semi-circular ceiling, to ensure optimal presentation.

In the "Destra" room, we implemented a 65-inch display, a video conferencing system with audio/video soundbar and a wireless presentation system.

To improve the audio quality in the "Alto" meeting room, two new ceiling microphones were installed.