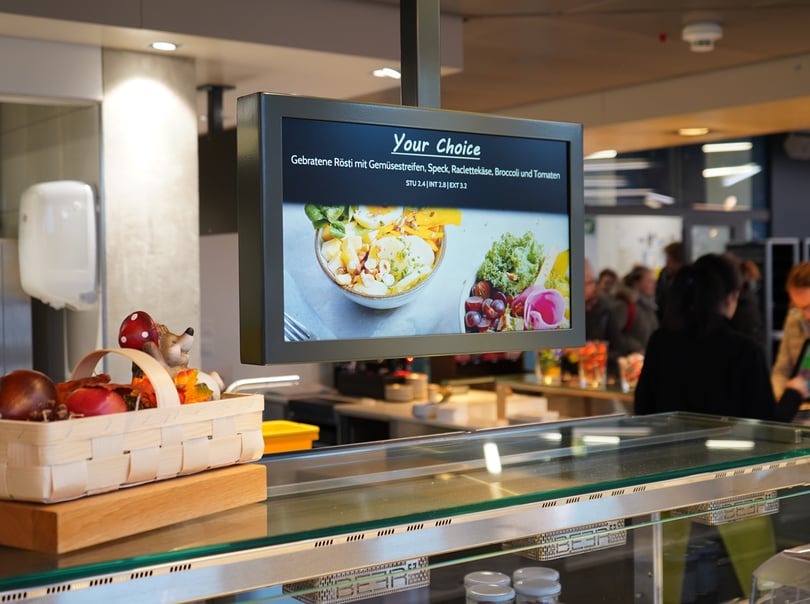 Kilchenmann realised an interesting digital signage project for the long-standing client medi. Medi attached great importance to the system being easy to use and offering various interfaces. The easescreen product was ideally suited to these requirements. With a connection to the ERP system, it automates the content on the displays. The customer can access and influence the system from anywhere via login.
In the entrance area, the backend and the software of the 3x2 video wall, on which room reservation content is displayed, were changed. However, the entire screen can also be used flexibly for other content. Two additional displays in the stairwell each show the same content in 16:9 Full HD.

Seven 22" displays were installed in the restaurant. The menu displays are fed directly from an XLM interface (thus displaying the same menus throughout Switzerland). The prices are also taken from the automated interface. If the kitchen runs out of hash browns, for example, the kitchen crew can immediately and independently change the content of the menu display.

In front of each of the two entrances to the refectory there is a portrait-format column on which the complete overview of the menus is also displayed directly from the interface. Another display in the entrance area shows the departure times from Wankdorf station and rounds off the digital signage concept.