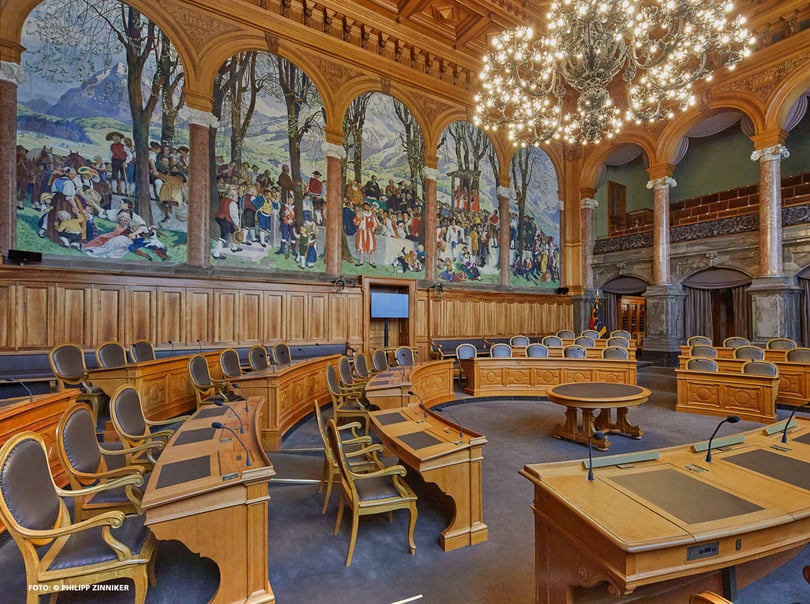 The Council of States hall was brought up to the latest standards by Kilchenmann with the latest audio technology.
The sound system convinces with optimal speech intelligibility in all seats. When choosing and installing the technology, it was important to take into account the protection of historical monuments by using discreet components in the historical rooms and to ensure high quality acoustics.

The audio technology includes the sound system for the spectators' and lower stands, the front PA system for the members of the Council of States and the direct office PA system for the Federal Councillors. The system is controlled centrally by an operator. With two 4-channel mixing consoles and a touch panel, the operator can control and activate each of the 55 seats individually. The mixing consoles have been installed in the National Council Chamber, the Council of States Chamber and in Commission Room 301, where they are used for recording the debates, for sound reinforcement, for multi-language operation and for the connection to the SRG. All seats in the small chamber can also select the language of the different interpreter booths by means of a channel selection module.
The interpreting booths and audio signals can be linked to each other (NR/SR/301) to expand capacity at any time.

Kilchenmann also looks after the entire AV technology in the Federal Palace with Service24 and guarantees one hundred percent reliability with 24h support and fast intervention times.
During the sessions, a Kilchenmann service and operating team is always on site and supports the politicians in the background to ensure that everything runs smoothly from a technical point of view.